Examination centre Abendgymnasium Salzburg paves educational pathways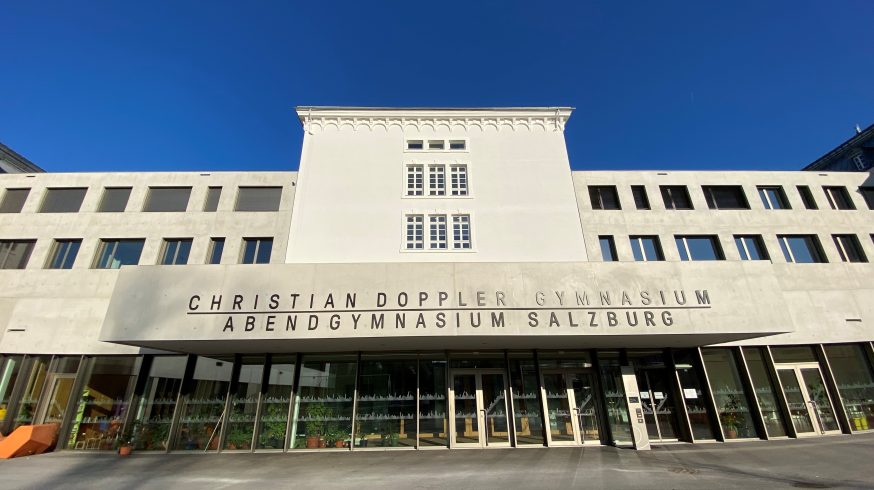 The new ÖSD examination centre Abendgymnasium Salzburg supports trainees in achieving their individual learning goals.
All beginnings are difficult, especially for all those who could not complete a conventional school education for various reasons.
The new ÖSD examination centre Abendgymnasium Salzburg supports trainees in achieving their individual learning goals.
The Abendgymnasium Salzburg is a renowned educational institution in the district of Lehen, which is dedicated to the school-based education of young adults and school leavers.It offers those interested the opportunity to catch up on their AHS Matura and thus gain admission to universities and universities of applied sciences throughout Europe.
The entire school education is flexible and adapted to the needs of the learners: Different forms of study and the individual module system ensure that school attendance is compatible with work and family.
Tolerance, openness and equal opportunities are emphasised at the new examination centre Abendgymnasium Salzburg. Respectful and appreciative interaction gives every trainee access to an environment that offers the ideal conditions for personal development.
Learning German: special support measures for people with a migration background
In order to make it easier for motivated people with little knowledge of German to start a full course of studies, the Abendgymnasium Salzburg has launched the initiative "Building Bridges".
Within the framework of the project, the educational institution offers students with a migration background the opportunity to improve their German language skills through special support measures to the extent that they can follow lessons in all subjects without any problems. By passing an internationally recognised ÖSD German examination at the Abendgymnasium Salzburg, students also receive official confirmation of their German language skills, which increases their opportunities for studying or pursuing a professional career in Austria, Germany and Switzerland.
The range of German examinations offered by the ÖSD
At the ÖSD examination centre Abendgymnasium Salzburg, ÖSD examinations can be taken at the following levels:
Contact:
Abendgymnasium Salzburg
Franz-Josef-Kai 41
5020 Salzburg

Contact person:
Mag. Roland Bieber
Telefon: 0043 0662 434575
E-Mail: office@abendgymnasium.salzburg.at
Website: www.abendgymnasium.salzburg.at
Become an ÖSD examination centre and offer ÖSD examinations
Are you interested in offering the internationally recognised ÖSD German exams at your institution? Here you will find all relevant information on how to apply for an ÖSD licence and on cooperation opportunities. If you have any further questions, please do not hesitate to contact us. Simply send us your enquiries by e-mail to marketing@osd.at.